WE1CT 927.7375 MHzInput: - at 902.7375 MHzFM: 244 DCS/DPLP25: NAC $250
Contact:
@
The purpose of this repeater is to provide event and team leadership with a secondary coordination channel besides VHF and UHF, as well as for other experimental purposes. All amateur radio operators are welcome and encouraged to use the repeater for any and all amateur radio uses, but priority is given to official team business during drills, activations, nets, public service events or other team sponsored events.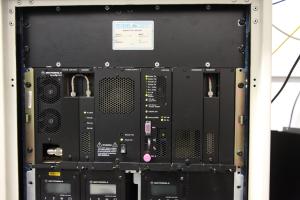 Motorola Quantar on 900 MHz
Click on photo to enlarge
This repeater is a Motorola Quantar set to 50 watts out of a dual cavity duplexer. The antenna is located on top of the building about 25 feet above ground level. The antenna is a 4 bay folded dipole. This repeater is also currently operating in mixed mode, allowing for simultaneous P25 digital and analog FM operation. The repeater is located on Skyline Drive.